Here Comes Valentine Cat (Hardcover)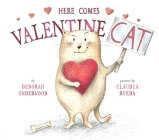 $16.99
Usually Ships in 1-5 Days
Description
---
The New York Times bestselling Cat is back just in time for Valentine's Day--but he's not interested in giving a valentine to any old dog. This homage to classic comic strips is perfect for fans of Pete the Cat, Bad Kitty, Mo Willems's Pigeon books, and of course, Cat's two previous capers, Here Comes the Easter Cat and Here Comes Santa Cat.
Cat does NOT like Valentine's Day. It's much too mushy, and no way is he making anyone a valentine--especially not his new neighbor, Dog. Dog refuses to respect the fence: He keeps tossing over old bones and hitting Cat in the head But just as Cat's about to send Dog an angry "valentine" telling him exactly what he can do with his bones, Dog throws a ball over the fence. What is Dog playing at? Cat is in for a hilarious--and heartwarming--surprise in this story about being perhaps too quick to judge.
About the Author
---
Deborah Underwood is the author several picture books, including the New York Times bestseller The Quiet Book, Bad Bye, Good Bye, and Cat's other adventures: Here Comes the Easter Cat, Here Comes Santa Cat, and the upcoming Here Comes the Tooth Fairy Cat. Deborah lives in San Francisco with her cat, Bella, who inspired Cat's hijinks. Claudia Rueda is the author/illustrator of several picture books, including Is It Big or Is It Little, Huff and Puff, My Little Polar Bear, and of course, Cat's previous adventures.