Project Seahorse (Scientists in the Field Series) (Hardcover)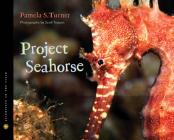 $20.89
Usually Ships in 1-5 Days
Description
---
Seahorses, some of the ocean's most charming fish, are in trouble. In the past twenty years their populations has declined. They are threatened by overfishing, pollution and climate change. In Handumon in the Philippines, villagers and conservationists have joined to protect the seahorse and the coral reefs where they live. Amanda Vincent and Heather Koldewey, founders of Project Seahorse, work with Filipino colleagues and local fishers like "Digoy" Paden to protect seahorses and the livelihood of local fishing families. Through their efforts the Handumon Marine Protected Area is now a model "underwater park" where marine life is safe from fishing.
About the Author
---
Pamela S. Turner
has a master's degree in public health from the University of California, Berkeley, and a special interest in microbiology and epidemiology. Her articles for children and adults have appeared in numerous scientific publications. Her books include 
Hachiko: The True Story of a Loyal Dog
,
Gorilla Doctors, The Frog Scientist, Dolphins of Shark Bay,
and
Project Seahorse. 
She lives in California.
www.pamelasturner.com
Praise For…
---
"With striking images of coral-reef inhabitants, this photo-essay introduces Project Seahorse, an international effort to protect and rehabilitate the Danajon Bank, a double reef off a Philippine Island where seahorses once flourished...Tuason, a noted Asian marine photographer whose specialty is the Philippines, seems equally adept at photographing the land and people and the underwater world. This is another splendid demonstration of the work of Scientists in the Field."--Kirkus Reviews, starred review


"Thanks to the fluent, information-rich narrative and to Tuason's engagingly up-close color photos of both human divers and of sea horses and other reef denizens, readers will come away with a much clearer understanding of the sea horse's distinctively "oddballbiology" and also of how one conservation success story hinged on cooperation between scientists and concerned local residents."--Booklist, review