The Dolphins of Shark Bay (Scientists in the Field Series) (Hardcover)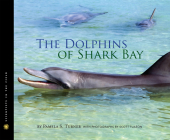 $20.89
Usually Ships in 1-5 Days
Description
---
Ride alongside the author Pamela S. Turner and her scientific team and meet a cast of dolphin characters large enough (and charismatic enough) to rival a Shakespearean play—Puck, Piccolo, Flute, and Dodger among them. You will fall in love with this crew, both human and finned, as they seek to answer the question: just why are dolphins so smart? And what does their behavior tell us about human intelligence, captive animals, and the future of the ocean? Beautiful photos of dolphins in their natural habitat and a funny, friendly, and fast-paced text make this another winner in the Scientists in the Field series.
Pair this with other intriguing stories of real-world science, at www.sciencemeetsadventure.com.
About the Author
---
Pamela S. Turner
has a master's degree in public health from the University of California, Berkeley, and a special interest in microbiology and epidemiology. Her articles for children and adults have appeared in numerous scientific publications. Her books include 
Hachiko: The True Story of a Loyal Dog
,
Gorilla Doctors, The Frog Scientist, Dolphins of Shark Bay,
and
Project Seahorse. 
She lives in California.
www.pamelasturner.com
Praise For…
---
"An exemplary addition to an always thought-provoking series."
—Kirkus, starred review

"Mann not only provides excellent examples of scientific thinking through the formulation and testing of hypotheses, she also serves as an authentic and engaging role model for girls considering careers in science. . . [An] affecting and vividly photographed work of nonfiction."
—Booklist

"Readers come away with an amazing, if sometimes blurred vision of a culture different from their own . . . A challenging, attractive eye-opener."
—School Library Journal, starred review

"There's no shortage of fascinating science in the breezy and engaging narrative. . . While being deliberately anti-mythical about dolphins, the book conveys the wonder of learning more about the intricacy of another species, and readers will be won over by both the dolphins and the sceince."
—Bulletin of the Center for Children's Books, starred review

"The detailed descriptions of the day-to-day activities of the dolphins—all of whom are given names and have distinct personalities—provide a window into the practice of animal behavior studies."
—The Horn Book Magazine