Prowling the Seas: Exploring the Hidden World of Ocean Predators (Hardcover)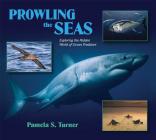 Description
---
From the surface of the ocean, it's hard to see any visible signs of life below. But this remarkable ecosystem is teeming with life—life that is increasingly under environmental stress. And it is often the predators that sound the earliest warning signs. By tracking a wide variety of ocean predators, the Tagging of Pacific Predators (TOPP) project provides essential cutting-edge information about the state of the ocean's health and the challenges facing all its inhabitants. Acclaimed science writer Pamela S. Turner takes readers along with four predators—a leatherback sea turtle, a bluefin tuna, a great white shark, and a Sooty Shearwater—on their remarkable journeys. This full-access look will change the way readers view our blue planet.
About the Author
---
The first thing I can remember wanting to be is a children's book writer and illustrator. I went through sketchbooks so fast my mother bought me rolls of shelf paper to draw on, and I remember being scolded for bringing books to the dinner table. When my parents made me turn off my bedside lamp at the end of every evening, I would read by the tiny red light on the temperature control for my electric blanket. I grew up in Riverside—a rather hot part of southern California. I was forced to sweat through many books, and not just because I was worried about the hero or heroine.
When I was in college I spent a year in Nairobi, Kenya, as an exchange student. I didn't know much about Africa before I left, but I knew it had lots of wildlife. I traveled throughout East and Central Africa and saw lions, elephants, gorillas, Cape buffalo, and many other animals. I met my future husband, Rob, in Kenya. He was an exchange student from the University of California–Berkeley. We both loved living in another country.
I have a B.A. in social science from the University of California–Irvine, and a Master of Public Health from the University of California–Berkeley. I've worked as a legislative assistant for foreign affairs for a California congressman and as an international health consultant. Over the years, Rob and I lived in the Marshall Islands, South Africa, the Philippines, and Japan. We have three children, Travis, Kelsey, and Connor. Each of them was born in a different country.
We now live in Oakland, California. When I write I am ably kept company by my yellow Labrador retriever, Genki, and my son Connor's cockapoo, Tux. They sometimes respond to "sit." They always respond to "cookie." I also have an Australian White's tree frog named Dumpy F. Lumpy who responds to nothing except juicy crickets.