Christie Johnson Coffin: Author of Making Places for People
Join us in welcoming Christie Johnson Coffin to Laurel Book Store!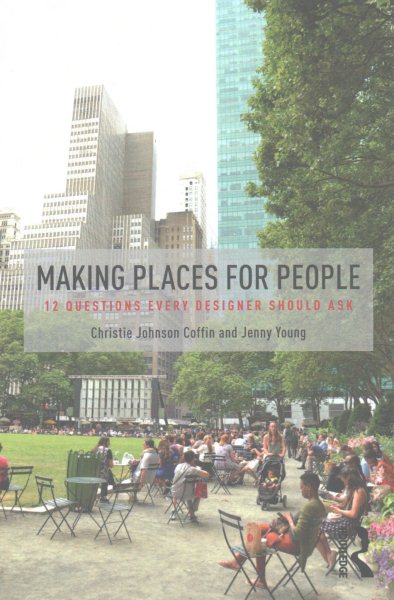 Meet Christie Coffin, who will discuss her work and read from her book. Discussion to follow.
About the Book:
Making Places for People explores twelve social questions in environmental design. Authors Christie Johnson Coffin and Jenny Young bring perspectives from practice and teaching to challenge assumptions about how places meet human needs. The book reveals deeper complexities in addressing basic questions, such as: What is the story of this place? What logic orders it? How big is it? How sustainable is it? Providing an overview of a growing body of knowledge about people and places, Making Places for People stimulates curiosity and further discussion. The authors argue that critical understanding of the relationships between people and their built environments can inspire designs that better contribute to health, human performance, and social equity—bringing meaning and delight to people's lives.
About the Author:
Christie has over 30 years of expertise which ranges from the planning and design of large mixed-use projects, to the study and renovation of small facilities. She is passionate about making places that are sustainable, functional, affordable, handsome, and filled with daylight. She is dedicated to finding the right physical form to fit a social need and to develop building concepts that are durable, and adaptable to future needs. Christie promotes a collaborative, participatory approach to design and planning.
Christie has taught at several universities and completed research that resulted in a book on children's hospitals. She has planned various hospitals, psychiatric facilities, university research laboratories, and an award winning community elementary school.
In Partnership with the OWA:
For forty years the Organization of Women Architects and Design Professionals has been an active support network in the San Francisco Bay Area for the many women involved in architecture, building engineering, planning, landscape architecture, interior and graphic design, and related environmental design fields.
Event date:
Thursday, June 21, 2018 - 7:00pm

Email or call for price
ISBN: 9781138860643
Availability: Special Order
Published: Routledge - January 21st, 2017
---