Jennifer Zeynab Joukhadar: Author of The Map of Salt and Stars
Join us in welcoming Jennifer Zeynab Joukhadar to Laurel Book Store!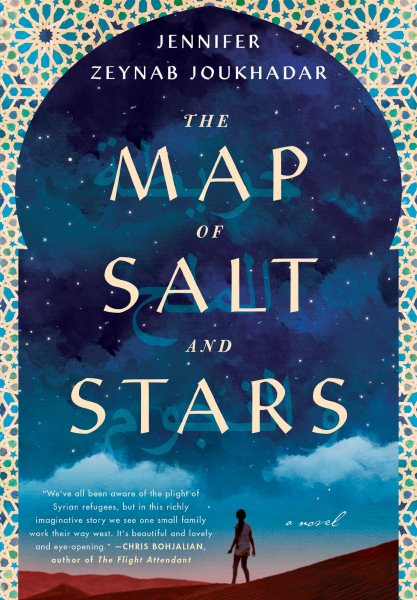 Meet the author, who will discuss and read from The Map of Salt and Stars, with a Q&A to follow.
About the Book:
This rich, moving, and lyrical debut novel is to Syria what The Kite Runner was to Afghanistan; the story of two girls living eight hundred years apart—a modern-day Syrian refugee seeking safety and a medieval adventurer apprenticed to a legendary mapmaker—places today's headlines in the sweep of history, where the pain of exile and the triumph of courage echo again and again.

In the summer of 2011, just after Nour loses her father to cancer, her mother moves Nour and her sisters from New York City back to Syria to be closer to their family. In order to keep her father's spirit as she adjusts to her new home, Nour tells herself their favorite story—the tale of Rawiya, a twelfth-century girl who disguised herself as a boy in order to apprentice herself to a famous mapmaker.

But the Syria Nour's parents knew is changing, and it isn't long before the war reaches their quiet Homs neighborhood. When a stray shell destroys Nour's house and almost takes her life, she and her family are forced to choose: stay and risk more violence or flee across seven countries of the Middle East and North Africa in search of safety—along the very route Rawiya and her mapmaker took eight hundred years before in their quest to chart the world. As Nour's family decides to take the risk, their journey becomes more and more dangerous, until they face a choice that could mean the family will be separated forever.

Following alternating timelines and a pair of unforgettable heroines coming of age in perilous times, The Map of Salt and Stars is the epic story of one girl telling herself the legend of another and learning that, if you listen to your own voice, some things can never be lost.
About the Author:
Jennifer Zeynab Joukhadar is a Syrian American writer, a member of the Radius of Arab American Writers (RAWI) and of Mensa. Originally from New York City, Joukhadar was born to a Muslim father and a Christian mother. They earned a PhD in the Pathobiology Graduate Program at Brown University and worked as a biomedical research scientist before switching careers to pursue writing full time. Joukhadar's work has appeared in The Paris Review Daily, The Kenyon Review, The Saturday Evening Post, PANK Magazine, Gulf Stream Literary Magazine, The Normal School, and elsewhere. Joukhadar's work has been nominated for the Pushcart Prize and the Best of the Net. Joukhadar is a 2017-2020 Montalvo Arts Center Lucas Artists Program Literary Arts Fellow in fiction and is an alum of both the Tin House Summer Workshop and the Voices of Our Nations Arts Foundation (VONA).
Event date:
Saturday, June 16, 2018 - 6:00pm

Email or call for price
ISBN: 9781501169038
Availability: Hard to Find
Published: Atria Books - May 2018
---